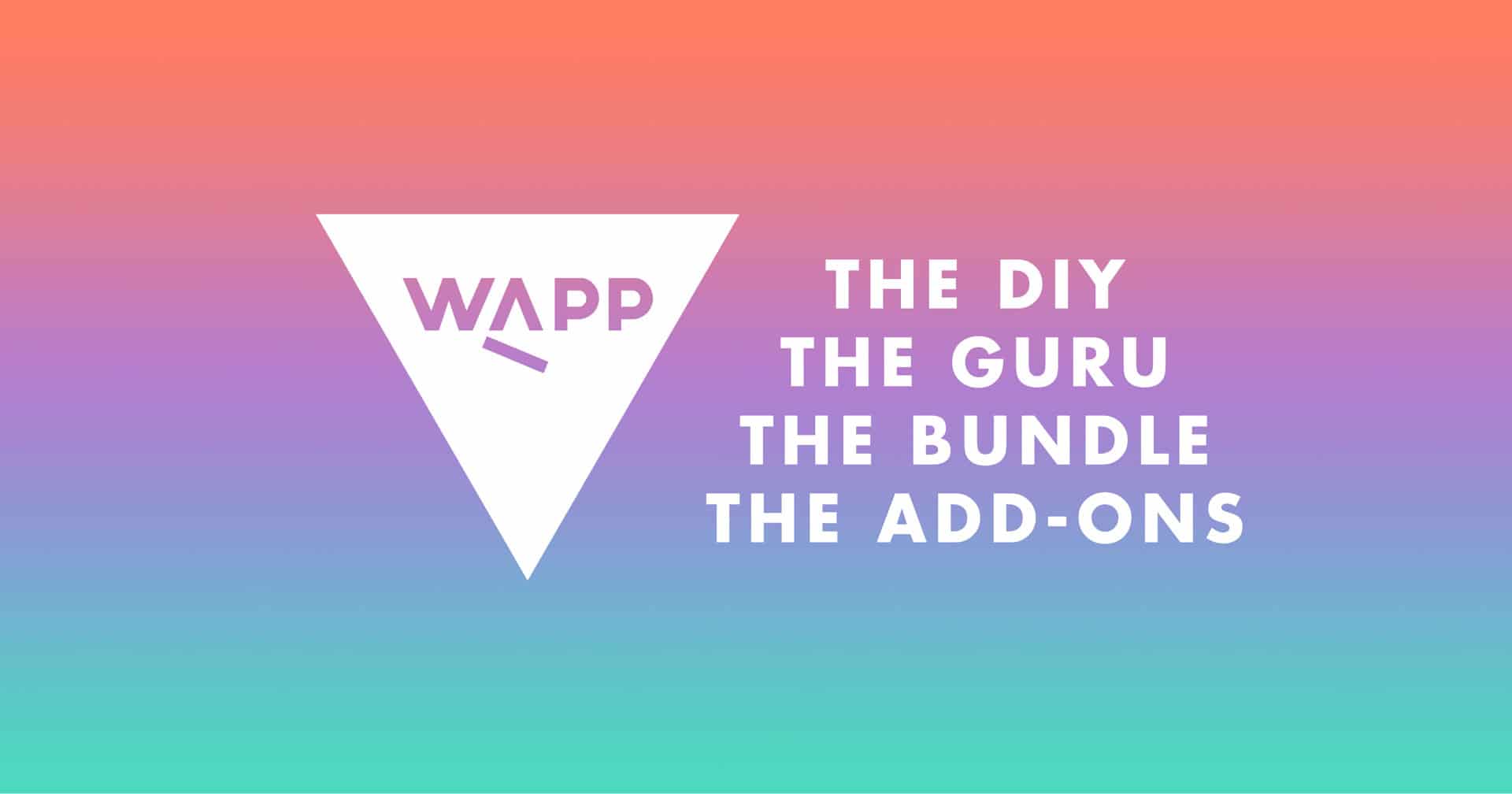 We here at Wapp Guru are happy to share that our services are expanding! We will now be offering 3 web service packages. We also now offer 12 Add-Ons for our customers. Let's take a closer look:
The Packages
The Guru
Thanks to our early adopters we've been able to better refine this package so all Guru clients get a quality custom website at a lower cost than competition. The Guru keeps your site up to date monthly so your online presence never falls behind.
$35/m, $985 One-Time Setup
The Bundle
 New customers looking to purchase the Guru now have the option to bundle it with any Add-Ons they choose with a 30% discount!
$35+/m, $985 One-Time Setup, 30% off Add-On Setup Fees
Introducing: The DIY
For the entrepreneur or small business looking to build their own site. Try it FREE for 3 months! Join the Wapp Guru community and have access to our Add-Ons, Support, and More Free Stuff!
$15/m, 3 Month Free Trial
The Add-Ons
1. Photography
For the most effectively designed website complimentary photography of your business and team in action is a must. Currently only available in Louisiana US.
$400 – Half Day (up to 4 hours)
$800 – Whole Day (anything after 4 hours)
2. SEO Setup
Search Engine Optimization, Local Search Marketing, and Pay-Per-Click Advertising options are made available to your website for optimal traffic growth.
$300 – Extended Setup
$100/m – Continuous
3. Social Media Setup
We set up your company pages on Facebook, LinkedIn, Google+ and others. Company pages are different from the standard personal pages. We'll deal with the initial account setup, logos, cover photos, and profiles. We show you how to log in, read, and update.
$300 – Setup Fee
4. Logo Design
Our sites are designed with a focus on modern flat design. For a most effective cohesion we recommend having a flat logo design. If you already have a logo we can convert it at a lower cost.
$300 – Flat Design (recommended)
$1000 – New Logo
5. Extended Hosting/Email
Supercharge your hosting environment with fast content delivery systems and advanced controls over your website. Also, add additional emails to your Guru package with Outlook, Gmail, Yahoo and as a bonus Google Apps for Work setup.
$55/hr Setup and Maintenance
6. Extended Development
Use powerful custom programmed plugins to differentiate your website from the rest! All of this is possible with the power of WordPress and some custom development.
$60/hr
7. Premium Support
Running a website can be daunting, we offer in person and telephone support as well as WordPress training so you can easily add new blog posts and content whenever you want.
$70/hr – for any additional services needed
8. eCommerce
Selling online? No problem, choose from a small, medium, or large scale shopping site with premium server hosting to insure your marketplace is always running smoothly.
Small – $1000 setup fee, $25/m addition – encryption, shared server 10 or less products.
Medium – $3000 setup $50/m addition – encryption, shared server, up to 30 items setup fee
Large – negotiated cost – encryption + dedicated server, 30+ items
9. WordPress Training
WordPress training by the hour. Learn how to control your website updating things like blog posts, page info, and more!
$800 – Whole Day (anything after 4 hours)
10. Premium Site Design
We use a premium WordPress theme and spend an extra week pushing your site to perfection.  (ex.https://wapp.guru)
Unique Creative Design
Animations & Hover Effects
Video/GIF Backgrounds
Custom Background Textures
+$15/m – $1500 Addition Setup Fee
11. Content Writing
Have our marketer write your content for you for optimal user engagement and advertising.
$60/hr
12. Mobile App
Turn your WordPress website into a stand-alone mobile application for Android and iOS. Use features such as geo-location, ecommerce, and social networking abilities to broaden your efforts to a new market!
$35/m – $3500 Setup
The Wapp Guru service and community is growing fast. If you aren't a Guru yet visit our website to learn more about why it's the best web service choice for your business!