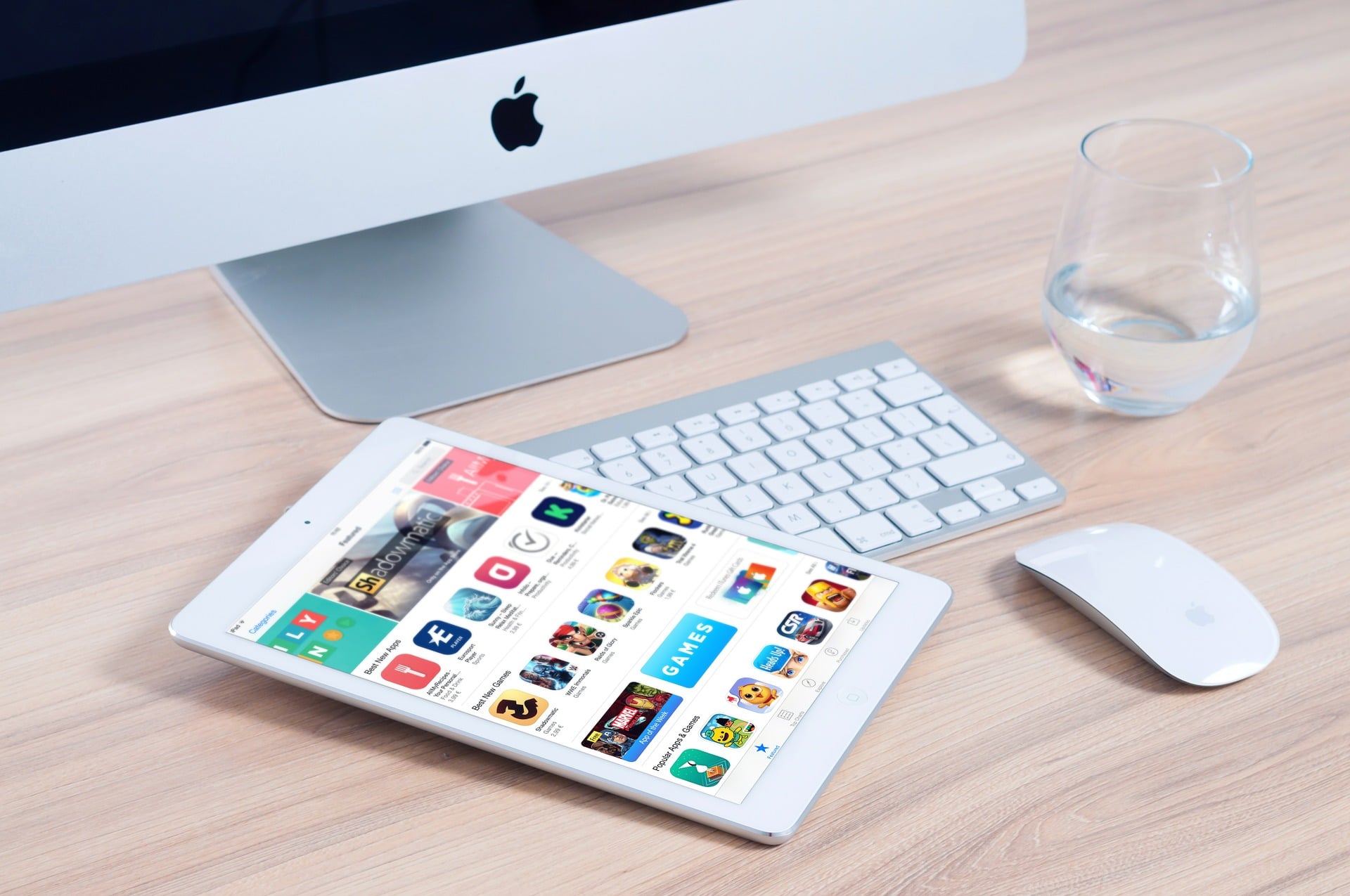 Not only are these the 8 best FREE apps we use, they're also the apps we use the most, running 90% of our business. Why spend thousands of dollars on premium business apps when all you need them to do is the basics? That's what most of these apps do, they perform the basics, and for the majority of your business apps, that's all you're going to need when you're a small or medium size business.
Using free apps as well as working from home allows us to reallocate our business income into other areas such as perks for our clients like better hosting, security and the ability to offer our service at a lower price than our competitors. So start using some of these apps and save money so you can focus it towards the areas that are needed the most.
Note that most of these apps also provide a premium option as you grow your business, such as Google Drive allowing storage of up to 30TB!
Slack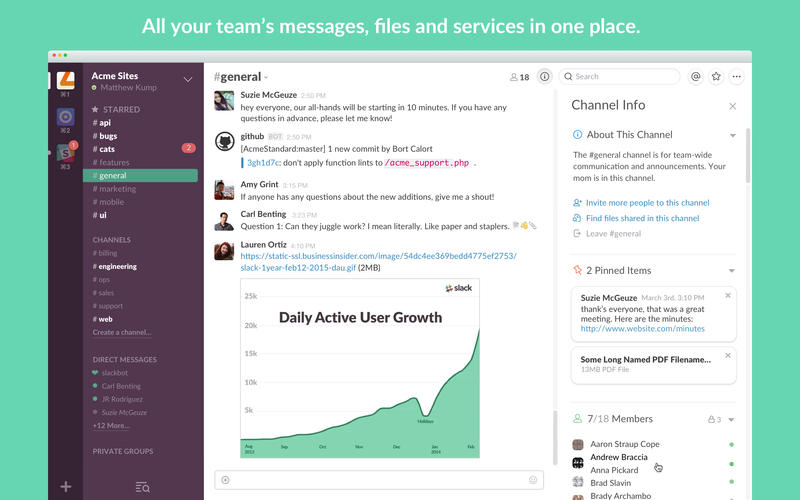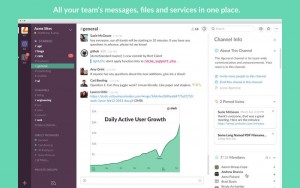 is blowing up right now in the tech and startup industry. It's the business communication platform that feels like a social media platform. It's ease of use, integrations, and attractive and fun design quirks allow it to stand out from the rest. When you're on Slack you don't feel like you're working, hence the name, but you're still getting things done. We always end up posting so many useful documents, articles, and info on Slack that it's hard to keep up. As Taylor and I currently run most of our company, we decided to invite some of our tech friends to communicate with us on our channel. This allows us to share ideas, and get insights we might not have if we were a more inclosed organization.
This is another app growing in popularity. Trello is a to-do list, project organizer, planner, life tracker, and much more. It's concept and function is so simple, that Trello allows itself to be so many different things. Each project starts with a board, this board has columns filled with cards you can drag and drop, add and edit. Forget all the fancy project apps and organizers you think you need, this does it all, and better. We keep our Wapp Trello board open all day, with our monthly, weekly and daily tasks, and if it wasn't for this app we wouldn't get half as much done as we do now. I also use it for personal projects and goals and even to track my income.
This is our storage system. We store EVERYTHING on Google Drive. As a designer I have a lot of large psds and jpgs. Not to mention ALL of our documents. And we still haven't filled up the free 15GB storage. Not only is Drive a storage system but its an amazing free document editor with a sharing system and live editing, so you can have as many people in your organization editing the same document at the same time and seeing it happen in real time, if you're into that kind of chaos. It also shows editing history so you know what everyone has edited, and if you don't like the changes you can always revert back to a previous state. We use Google Drive throughout the day, I'm using it right now to type this.
Compare Cloud Storage Solutions
Toggl seems to be the easiest and best looking time tracker out there. You'll want to check it out if you're looking to track your time with multiple projects or clients. Start the clock, set it to the project you're working on, and afterwards see your monthly progress with a colorful diagram. You can share Toggl with your team, so you can check each other's time spent. As we're a new business starting out we need to move as quickly and smart as possible so time is very important to us, and Toggl helps us track and see where our time is spent so we can adjust for optimal efficiency.
Streak is our newest app to our arsenal. We searched far and wide for a good customer relationship manager (CRM) and finally landed on Streak. Streak seems to be designed for the minimalist and small businesses. This is a very bare bones and customizable app. Technically it isn't even an app, but a Gmail extension. Streak allows you to manage all of your clients without leaving your inbox. You can create pipelines or funnels for leads to new clients, client project progression, and more.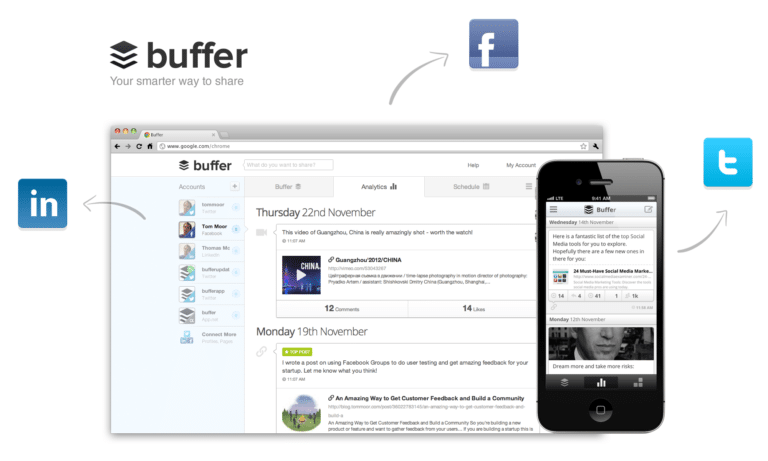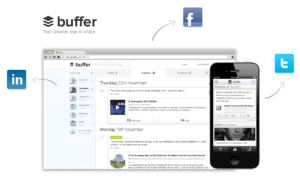 Buffer allows us to set-it-and-forget-it for our social media posts. This is crucial for a small team that doesn't have a designated marketer. You can choose which social media services you use and automate the date and time you would like it to post. The premium version does look enticing allowing more posts and accounts, but for now we're able to make it work with the free. Just drop an article in and let Buffer do the rest.
The traditional bookmark program is dead. If you've heard or used Pocket, you know how much better and intuitive bookmarking can be with the right app. As great as Pocket is, we searched for a similar app focused on team sharing. Dropmark does exactly this, and is great for our business to keep a hoard of great articles and resources, and organize them into as many folders as we need. Dropmark comes with a browser button for quick bookmarking, it really doesn't get easier than this.
We use Dropbox with our clients to easily share files when building their website. Its an easy way to access a large library such as a photoshoot, and makes it easier for the client, allowing me as the designer to sort through and pick the best images for the site. Dropbox is on every device, so you can access files from anywhere. It's simple design and customization makes it the file sharing app for businesses.
Best Cloud Storage Providers of 2018
Skype is a given. We've tried different video chat programs and we always end up going back to Skype. It's the most reliable and easy to use, which is very important to us as we live in different states. And now they're working on a browser version, so you don't even need to download the desktop app. Skype and other video chat programs are becoming ever more important for new businesses, allowing everyone on the team to have a meeting from any device, from anywhere, for free.
Bonus: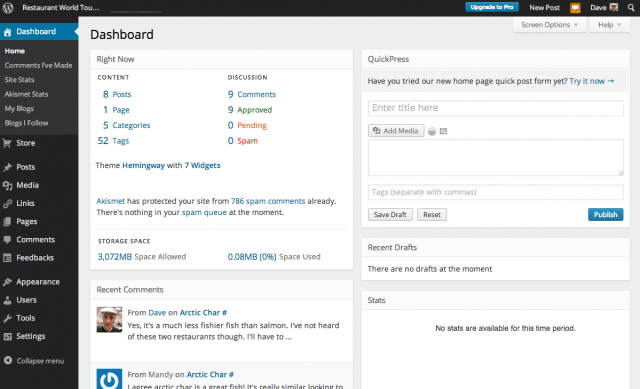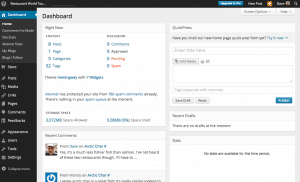 WordPress is the go-to for businesses looking to have complete control of their website. With the most plugins, themes, and customization of any website editor, WordPress is a no-brainer. That's why it's our platform of choice at Wapp for all our websites we build. WordPress allows our clients to easily add content like new blog posts and events to their site right away, without needing any technical support from us. WordPress also allows us complete creative control of every website we build, without us having to start from scratch, or writing every line of code, so that we can produce at a quicker rate at a better price than competitors.
If you aren't using any of these free business apps we highly suggest getting started checking them out. There's no risk, they're free! Did I miss any that your team uses? Let us know in the comments.
Interested in a new website? The last website you'll ever need, with monthly technical and design updates, the Guru keeps you looking young, forever. We offer the best product for your dollar. Seriously. Contact  us at contact@wapp.guru. Visit us @ wapp.guru.